The Hanged Man is the second novel in The Tarot Sequence, a fantasy series by KD Edwards. It was published on December 17, 2019.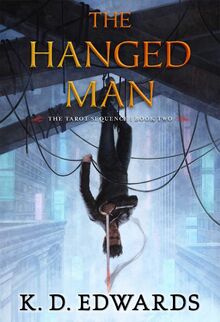 Plot Summary
The Hanged Man takes place after the events of The Sunken Mall. After Lord Hanged Man attempts to kidnap their teenage ward, Max, and marry him against his will, Rune and Brand seek to find leverage against the powerful Arcana. Their investigation leads them to the floating brothels of the Green Docks, the hidden levels of a skyscraper biosphere, and a haunted WW-II battleship. In the process, Rune names his heir to the Sun Throne and takes in the Dawncreek family. To save Max and the Dawncreeks, Rune finally claims his father's throne and his seat in the Arcanum.
Community content is available under
CC-BY-SA
unless otherwise noted.