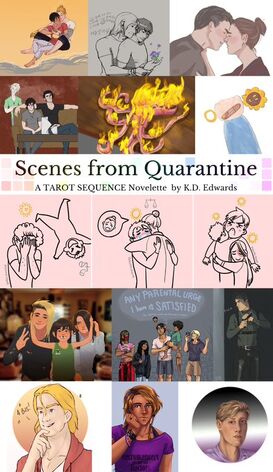 Scenes from Quarantine is a novelette in the Tarot Sequence, a fantasy series written by K.D. Edwards. The story was released serially during the 2020 covid-19 lockdown, from March 27th to July 13th. Edwards shared scenes from the story on his Twitter account; the complete novelette was released for free on July 13, 2020, and shared with fans in a Google docs folder.
Edwards asked for fan art illustrating the scenes, which he put together to form a mosaic cover.
The events in Scenes from Quarantine take place after The Hanged Man and prior to the unpublished third book.
Day 1
Day 7
Day 8
Day 9
Day 10
Day 11
Day 12
Day 13, Part I
Day 13, Part II
Day 14, Part I
Day 14, Part II
Day 15
Day 16
Day 17, Part I
Day 17, Part II
Day 18, Part I
Day 18, Part II
Day 18, Part III
Day 18, Part IV
Day 18, Part V
Day 18, Part VI
Day 18, Part VII
Day 19
Day 20
Day 21, Part I
Day 21, Part II
Day 22
Day 23, Part I
Day 23, Part II
Day 23, Part III
The Final Day
Community content is available under
CC-BY-SA
unless otherwise noted.