Half House is the home of Rune and Brand during The Last Sun and The Hanged Man. Unable to live on the haunted Sun Estate, they purchased the home when they moved out of the Tower's property. Their house keeper, Queenie, cooks and cleans for them, and lives in a cottage in the backyard. She provides a motherly influence, baking, making sure the boys are properly clothed, and providing thoughtful emotional insight. Max joins the household at the beginning of The Last Sun. Given the financial difficulties of the duo, Half House is plagued by broken appliances. A mass sigil in the foundation protects the home.
Description
[
]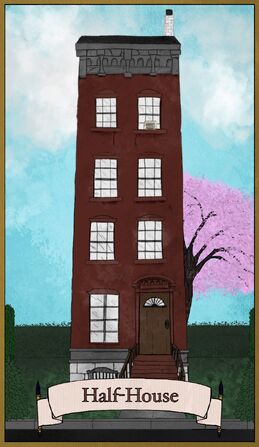 Located on a cul de sac,[1] the house is a few blocks from the busy streets, shops, and parks of New Atlantis, and twelve blocks from downtown.[2] The building is a narrow brownstone, with rooms approximately 9-feet in width.[3] The facade includes a front stoop and wooden railing.[4] On one side, Half House is flanked by Mr. Miranda's property, with a row of bushes on the property line.[5]
Brand's bedroom is located in Half House's basement, a dark, messy room with a futon and a small refrigerator.[6] The first floor contains the kitchen and living room, which has a coffee table,  puffy chairs,[7] a sofa, a bookshelf,[8] and home wards by the door.[9] The second floor includes Max's room (previously the guest room) and a bathroom. [10] The entire third floor is dedicated to the sanctum, a large room with wooden floorboards.[11] Rune's bedroom comprises the fourth floor, and contains a custom king size mattress that takes up the room's nine-foot width, a dresser, closet, and an aged air conditioner missing its knobs.[12] The various levels of the house are accessed by a metal spiral stairway.
The backyard, larger than the house itself, includes an elevated patio,[13] plastic lounge chairs,[14] a picnic table,[15] and a grill. Queenie's small cottage stands at the back of the yard's northwest corner.[16] A cherry tree provides shade.[17]
References
[
]